Calendar
Events for August 12, 2023
Events Search and Views Navigation
2:00 pm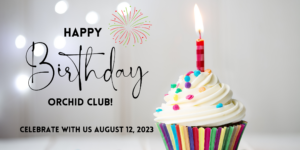 Join us to celebrate the Orchid Club's 6th birthday! Please register (at the link below) for this free event so we can offer snacks & drinks
Find out more »
+ Export Events
Event Descriptions
Join us for music therapy with Trina Rainey, Board Certified Music Therapist at Healing Harmony Music Therapy! All Orchid Club members are invited, but the class is geared toward kids 3 & under. Siblings are welcome too! Please just use your best judgment to decide if your kid(s) will enjoy the class.

Don't forget to RSVP so we can make sure there's enough room!

This class will be by donation (suggested amount is $5-$10).

Check out Trina's page: facebook.com/healingharmonymt for more information on what she does

label

Coffee & Conversation

Although the kids aren't the focus of Coffee & Conversation, this month we'll have access to the All-Needs Playground at Eagle Mount! Show up a little early or stay late for some play time 🙂

All Orchid Club members (and kids) are invited to Coffee & Conversation focusing on parental mental health! There will be toys for little ones, but we'll be focusing on the feelings, thoughts, struggles, and triumphs of special needs parenting.

We'll start by talking about the good things in our lives right now, discussing a topic, exploring the conversation, and finally brainstorming each other's problems.

Every Orchid Club event, but especially Coffe & Conversation, is a safe place – judgment free, confidential, kid friendly, and supportive. You can just listen if that's where you feel safest. You can list your frustrations and cry. Whatever you need, we're here for you!

This program is designed to welcome our special needs community members to their own library time!  Join us for baby/toddler songs and movement games.  Siblings are welcome, since there are always toys & books available too.

All Orchid Families are invited to join us for storytime – even preschoolers & typical siblings! We'll be offering stories in addition to the usual toddler songs to entertain a slightly older crowd.

All Orchid Families are invited for an afternoon of fun & games! Kids are encouraged to attend in costume; adult costumes are optional.

Please sign up to bring a dish for a pot luck dinner – dishes should be relatively healthy and kid-friendly.

All parents to Orchid Kids (yes, dads too) are invited to a relaxing, introductory yoga class lead by Texel Feder Yoga. Don't worry about your fitness level or the fact that your yoga pants have never done yoga… just come, breathe, rejuvenate.

The class will be kid-friendly, but not kid-focused. There will be some library toys available, but you can bring whatever you need to keep the little ones busy while you relax. Please message The Orchid Club if you don't have a yoga mat & we'll try to find you one.

Donations are accepted at this event.

Celebrate the official launch of the Orchid Club!

Music from The Dirt Farmers & Lane Norberg Music
Food from Chef's Table Food Truck
No host bar
50/50 Raffle (buy your tickets now!)
Silent Auction
Suggested entry donation of $5

Doors open at 5:00, with music to follow. The silent auction will close at 8:00, followed by the 50/50 drawing.